All Models Tips
TVR Transmissions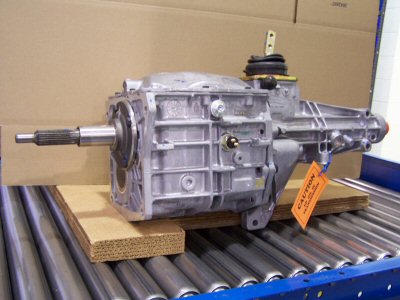 Our company has many NEW still in the box aftermarket TTET1239 TVR Spec 5 speed manual transmissions available. I have attached pictures. If you are interested please call me.
Regards,
Angie Leonard
American Gear & Transmission, Inc.
aleonard@keislerauto.com
Look what's new on our web-site at www.american-gt.com or www.keislerauto.com
865-609-8187 x 219
865-566-0315 fax
2250 Stock Creek Blvd.
Rockford, TN 37853
January 18, 2007
Five Speed Gearbox Conversions
Conversion Components Limited (in New Zealand) offers five speed Toyota transmission conversion kits for Ford v6, MGB and Tr6. Tel. +64 (7) 863-8509 website: http://www.conversioncomp.co.nz

JMC Motorsports offers kits to put T56s into 60's vintage Fords. The T56 is the transmission used in the Dodge Viper. They also have hydralic clutch conversion kits for Ford's cable clutch. See www.johnsmustangs.com/clutchkits.shtml
JMC Motorsports (619)230-8866 www.johnsmustangs.com

Herman van den Akker offers conversion kits for Tr2 through 6. There is a website: www.blindmoosefab.com/hvda.htm
Jim
Borg-Warner is now Tremec
Borg-Warner manual transmissions are now owned by Transmission Technologies Corporation (TTC) www.ttcautomotive.com or www.tremectransmissions.com. These guys consider the Viper light duty. Tremc has some new T5 related trannies for v8 sports cars such as the Tr-3550. They also mention that the T5 is used on the Cerbera and Tuscan. Also see the TKO which has three different shifter mounting bosses.

Some Tremec trannys seem to only be available for aftermarket applications, i.e. hot rodders and engine swappers.
T5 and T45 Parts and Information
Here's one of the * best places * I've found for T5 info, parts, knowledge, etc. I ended up buying a new T5 tranny from them, but they can give you small part service right up through full tranny's. They do mostly drag-hi-po street car trannies ( and campaign their own high end Pro 5.0 drag cars ) and are excellent from price-service-phone-shipping perspectives. Their website is very complete with lots of info, etc as well as exploded parts views. Check'em out! They are "T5 trannies are us".... www.hanlonmotorsports.com

Douglas Allen

They also do T-45 stuff and have shifter relocation kits for the TR-3550.

-Webmaster
Griffith and Chimaera Shifter Linkages
The Griffith and Chimaera use a Borg Warner five speed transmission with a special TVR designed shifter linkage to relocate the shift knob to a better position. Anyone owning a 60s Griffith or Ford 3 litre car will see the beauty of this. If you are thinking about a transmission swap, getting this linkage from the factory might be a good idea.
Left: Illustration from TVR factory brochure 1996.
Right: Picture of Mark Eliot's 3000M Turbo with T5 transmission. See more of this car at www.musikline.co.uk/marksone.htm
Remote Shifter Linkages Part II
John Buszard sends the following information:

You have a picture of the modern TVR gearchange linkage on your site. Here is a supplier of new parts for this along with some pictures. The linkage fits on to a T5 gearbox but the bell housing that the front rose joint (spherical bearing) mounts onto mates with the Rover V8. Some modification would be required to put it onto a Ford bellhousing.

From: Mark Green [mailto:mark.green@racetechdirect.co.uk]
Sent: 21-Feb-07 07:23
To: Buszard, John
Subject: Re: Feedback Form Racetech Direct Web Site From John Buszard

Hi John,

>I have had a check and Griff/chim remote gear change linkage is appox "120.00 for all the bits. >It will put the gearstick 3" from the back of the gearbox main case. Or 5 1/2" forward from tail housing stick exit. >I dont know what bell housing you have but for the remote linkage there is a rose joint that sits on the bell housing to guide the linkage,The other thing the remote moves the gearstick to the right side by 2 1/4" looking from the top but you can turn 180' so the offset is to the left. Hope this helps, I have attach some pics.
Regards
Mark Green
Aftermarket Hydralic Parts
Slave Cylinder for Cable Clutches
Wilwood Engineering www.wilwood.com make brake calipers etc for racing etc. They also have a "pull type" slave cylinder which seems to be make for conversions of cable clutches to hydralic.
Webmaster 4/20/2003
Spax Shock Wrenches
| | |
| --- | --- |
| | The Harley Davidson shock absorber wrench p/n 94448-82 is a perfect fit on Spax adjustable height shock absorbers. (At lease for the ones for the M/Vixen.) |
I saw your tech tip on the H-D shock wrench that fits Spax shocks. I recently bought two Spax shock wrenches from Horton Street Rod Products on their eBay store. The link to the site is http://stores.ebay.com/Horton-Street-Rod-Products . Look under the listing for "coil-over wrench adjust". They work fine and are short enough to be usable under our 2500. Price was $10 US each, shipping for the first wrench is $7 and then $1 for each one after that.

Mike Chapman
Aug 30, 2004
Notes
Transmission picture from a 1996 factory brochure.

Previous
Next
Contents
Home


Last updated on February 25, 2007.