TVR Picture Gallery and History
Out Of The Woodwork 17
Woodwork 17 was organized by the Midwest region of the TVRCCNA, and held on September 26-28, 1997. Gerry Sagerman was Guest of Honor and gave a great talk on his experiences importing TVRs into the United States. Woodwork was piggybacked with the Indy British Motor Days Car Show, hosted by the Indiana British Car Union. The Union also aranged a tour of the Speedway for Saturday. Clubs occasionally rent the race track for no speed limit lapping. The Union was horrified to discover a 35 mph speed limit (45 outside on a public road), enforced by wall to wall police cars!

Left: A TVR after one lap of the Indianapolis Speedway. from author's collection.
Second: Agressive motorists terrorize the empty stands at a blistering 5 (five) mph.
Third: A 2500M with 3.4 liter Camaro V6, with custom duct work to solve British Car Disease.
Fourth: The same 1974 2500M.
Right: A beautiful 3000S engine compartment and more custom duct work.

Left: Don Ensley's model of "Old Blue", built from scratch while serving in Viet Nam. The model, painted in an experimental color scheme, sits on top of "Old Blue", which was Gerry Sagerman's Grantura racer. This must be the car from the Griffith legend. Hub failed in closet.
Center: Another view of the Old Blue model.
Third: A white Jomar sits next to Old Blue at "Woodwork 17" at "Indy British Motor Days".

Out Of The Woodwork 18
Once again the TVR annual meeting was organized by the Midwest region, this time by Jared Silver. Planning was delayed, so it was not practical to notify the TVRCCNA membership until August, so Woodwork 18 was not an offical Woodwork. Many people call it Woodwork 18, anyway. Woodwork 18 (or whatever) was held in conjunction with "The British Car Festival" which is organized by the British Car Union. Read more about Woodwork 18. I never did get to see the U-Boat.

Left: The TVR Club after lunch on Saturday.
Center: A line of TVRs at Woodwork 18, September 1998.
Right: The group photo by Jared Silver.
British Car Day 1999
There are many "British Car Day" shows. This one is held in the Washington D.C. area. We had 14 TVRs on the field, 5 Tasmin/280i, 2 3000s, 5 2500Ms, 1 Vixen S4 and 1 Griffith.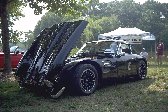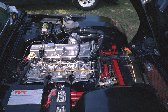 Left: BCD is usually on the first scorching hot day of the year. We come prepared.
Center: The Vixen series 4 is a hybrid vehicle, using the older Vixen body and the later M chassis. The webers were not a factory option.
Right: The TVR lineup early in the day.
Notes
Uncredited photos copyright by author. Every picture on this page is a thumb nail (if you hadn't guessed). The naming convention for Woodwork has been changed to the year. This means another first for TVR in America! The year one hundred problem!

Previous
Next
Contents
Home
Last updated on 18 February 2000.