TVR Picture Gallery and History
TVR Cars Of America, 1966 to 1979
Gerry Sagerman was introduced to TVR in 1963 when he was Mark Donahue's co-driver in one of the factory TVR's at Sebring. He then bought one and campaigned it in SCCA races. He represented the Lilley's in the US and started importing TVRs in 1966. He stopped at the end of 1979.


Left: An ad in the September 1966 issue of Car & Driver (courtesy G. Sagerman). Middle: Two advertisments for TVR by Gerry (courtesy G. Sagerman). Right: A later ad by Gerry, from author's collection.

There is an article on TVRs in America and TVR Cars Of America in Automobile Quarterly vol 15 no 2 (out of print).
TVR North America
The U.S. was denied territory for many TVR models, though most reached Canada via John Wadman's TVR North America. TVR North America was founded in 1971 as JAG Auto Enterprises by James A. Gardiner. John Wadman took over the company in 1973. TVR North America imported it's last new TVR in 1994. They still offer parts, service and used car sales.


Left:The TVR S was available in Canada but not the U.S. TVR actually lets you wander around the factory, talk to people and take pictures.
Middle: The 390SE may have been available in Canada. It was never imported south of the border.
Assembling a right hand drive S model dash.
Right: Wedges and 280S at Blackpool. The red V8 seems to be fitted with a number plate ejection system.
Last: A JAG/TVR North America sales brochure from the late 70s.
TVR North America Inc
In 1983 Peter Bircumshaw of TVR North America Inc, in Shenandoah, GA was named US importer to introduce the Tasmin line to the USA. He imported the first 37 Tasmins, which were all convertibles, BDH1001 to BDH1037. After Peter ceased importing cars he continued to service Tasmins via his company "Grand Touring Automobiles". The import rights were then transfered to "TVR of America", run by David Beesley, of Jacksonville, FL who was previously head of Volvo USA.
TVR Of America
Started by David Beesley, and later run by the Bradleys, TVR Of America imported the 280i from 1984 to 1987.


The Tasmin/280i/350i etc family was nicknamed "Wedge".
Left: From the collection of Marshall Moore.
Second: A Tasmin/Wedge frame under construction. It really is hand made.
Third: Mounting suspension components on a Wedge. The tapered nose and use of sheet metal on the frame distinguish the Wedge family from other TVRs.
Right: A Wedge body mold.

A 1985 280i Fixed Head Coupe. This car has been updated with the later 86+ Series 2 "Federal" bumpers. Notice astounding amount of space (for a TVR) in back of the car.
British Car Day 1991
This Washington DC area car show usually has a good turn out of TVRs. The owners of this car installed the motor and then drove over 700 miles to BCD, where another TVR owner tuned the car. Count the sparkplugs.


Left: Engine compartment should be clean, they installed engine two days before.
Middle: Man doing tune-up (Jan Goodman) is not the owner.
Right: Happy owners receive award.
Woodwork 15
Woodwork 15 was held at the traditional site of Round Vally State Park in sunny New Jersey.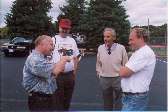 Left: Colin Lyons expounds apon American beer to TVRCCNA members and Trevor Wilkinson (founder of TVR) at Woodwork 15.
Second: The early bird dries his car before the show starts.
Third: The auctioneers at the TVR auction Saturday evening. Left, Colin Lyons, right Bruce Negrycz II.
Woodwork 16

Woodwork 16 (really known as "TVR Nationals at British On The Green") was held at the Eleventh "British On The Green" Car show at Granby Connecticut.


Left: TVRs with lake pipes are rare.
Middle and right: An incomplete project car.
Notes
TVR Cars of America advertisements copyright by Gerry Sagerman. 280i FHC photos tvr_602.jpg to tvr_609.jpg by George Czerw. Information about Tasmin/280i importers by Marshall Moore. Uncredited photos copyright by author.

Previous
Next
Contents
Home
Updated on 9 February 2003.
Created on 10 June 2000.