TVRs with Alternative Engines
Some people have swapped engines either for more porformance or lower running costs. The cost of imported English Ford 3.0 liter engine parts is much higher, for example, than the parts for Ford v8s build in Windsor Ontario. These are some of those TVRs.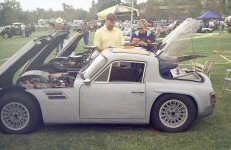 This car uses a 3.1 liter Chevy Camaro v6. This motor seems to fit really nicely. The hatchback is rather interesting.
Pictures provided by Bill Sanford.

The car's owner reports:

I did a full disassembly of a Vixen 2500 someone had stored outside in the rain for 13 years (without a rear window to keep the water out). While cutting and grinding most of the bolts off, I decided to rebuild it as more manageable vehicle rather than a faithful reproduction of a TVR.

It now has a 3.1 Camaro motor, T-5 five speed gearbox and a hydraulic throwout brng. in a drivetrain that siameses a camaro driveshaft to the TR-6 differential mating flange. A Tilton clutch master replaced the original girling unit. Engine has a holley 38-38 DGAS carb but is otherwise stock. I had planned to use the Fiero fuel injection system cause it's pretty (I actually have a FI unit with TVR carved into the top... really looks nice), but i couldn't seem to get the computer to do what I wanted. Gauges and other engine electricals were transplanted from Camaro. Easy since I had to replace all rotten wires anyway. Made my own dashboard out of a nice piece of wood.

Used a radiator from a Audi (5000 Turbo, I think). And an old Water header tank from a 70s Pontiac or some such thing (actually just toured the local Pick-A-Part junkyard till I saw something that would fit).

Seat tracks were rotten so I fitted Fiero seats (with speakers in the headrests) and got a set of Leather seatskins from MrMikes (on the web). Sunroof was beyond easy repair so I replaced it with one from another web-friendly company (It doesn't work as well as the original, so I'm not real anxious to recommend them by name).

I traded the original rear screen for help in rebuilding my hubs and suspension links, and replaced it with a 1/4 inch lexan screen. I cut it to fit and attached it as a hatchback, using hardware from 1st generation Mazda RX7. Wired the electric latch in so I t can only be opened when the drivers door is open. Door window cranks were rusted so I replaced them with electric lifts from an old Mitsubishi Starion (again, just tour the junkyard to find something that will fit... then make all needed adaptations).

I used the early v-belt water pump and alternator mount so I wouldn't be stuck with useless air- pump, power steering pump, AC compressor and idler wheel just to get the "serpentine" water pump to spin in the opposite direction.

That's all the major stuff. I presently have much of the externals stripped off so I can work on smoothing the body for a paint job I'll do in April or so. Glad to help all those attempting this perilous path. Also can reach me at (awilliams002@charter.net) or when I occasionally insert some pearls of wisdom in the TVR chat site

Alan Williams
Riverside, C

Paul Robilotti is putting a Chevy 3.4 liter into his 1971 Vixen 2500. These pictures are of his new engine fresh from the crate.

Here his engine is being fitted at Ragtops & Roadsters. The engine sports a 390 Holley 4 bbl. with Edelbrock Intake.

The yellow car has an Alfa engine. Picture provided by Bill Sanford. The second car has another Chevy 3.1. Seen at Woodwork 17.

This 2500M has a turbocharged Tr6 engine. The owner started with a fresh low compression engine and a turbo charger from a Chrysler passenger car. The car was photographed at Woodwork 5 in 1985.

This 2500M has an aluminum VW Sirocco radiator, with 24 fins per inch. It has 2.5 times the cooling area of the best factory sized radiator. It is held in with four 100lb tie wraps and a dowel. One adds water by pouring it into the upper radiator hose at the thermostat cover. The radiator cap IS below the water pump. Note lack of spare tire. The car is covered with grey dust because it is in a body shop. This car now uses a normal TVR 'small' radiator with a fancy core and fan shroud.
There are no Ford V8s on this page because they practically considered stock because TVR used them in the Griffith and Tuscan and there are so many of them that they would require a whole page for themselves. I may actually make a page for them later.